If you are really into gymnastics then you likely already have a gymnastics mat at home to practice on and perhaps you are wondering what the best gymnastic bar is that you should get for your home practice sessions. Home gymnastics bars are not nearly as simple as beams, so it can be hard to decide what kind of bar you need.
Overall the best gymnastics bar for home is probably Tumbl Trak Junior PRO, with XTEX Gym Pro and Reliancer Expandable being close seconds.
But perhaps you are more interested in picking your own gymnastics bar to have in your home. In that case there are a few things that you should always look at when considering if certain gymnastics bar is the one that you should get.
Tumbl Trak Junior PRO – 125lb weight limit – 38"-58.5" height
This option is bar far one of the most popular horizontal gymnastics bar that people have in their homes. The Tumbl Trak Junior Pro has a nice range of heights and only takes up a 4'x6' area on the floor. While it does not come with its own mat, it is designed to fit any 4'x8' standard mat.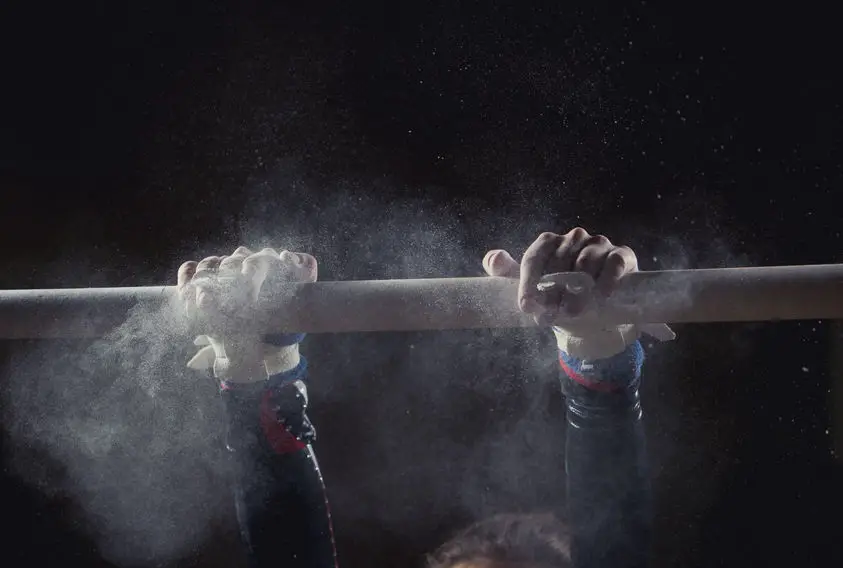 It comes in both blue and pink and the horizontal bar is made up of solid maple, which is one of the best things that this bar can be made of. This in turn attaches securely to the heavy gauge steel tubing which gently curves at the corners and goes down to where you can adjust the height.
The knobs make it easy to adjust the height, and it is also easy to take apart and store away if you need the space for something else. The frame is very simple with a brace on the ground that goes from one side of the bar to the other and extends on the ground at a right angle to the bars.
XTEX Gym Pro Gymnastics Bar – 140lb weight limit – 3'-5' height
The XTEX gymnastic bar comes in pink or purple and has some of the same features of the Tumbl Trak bar. However, this one has a square design and the bar for it is made of beech and not maple, which can be less durable. It is easy to adjust and the frame can handle a slightly larger amount of weight due to the T-frame support at the bottom.
On the ground there are not only the supports that go at a right angle to the bar and a brace that goes on the ground underneath the bar, but the brace extends past the sides of the bar and has its own diagonal brace that goes up and attaches to the side. This extra help is in addition to the fact that the sides do not go straight to the floor, instead branching off into a three-pronged fork that goes to the floor.
The XTEX bar does not have its own mat either, but it does have the helpful non-skids. The fact that the steel parts of this bar are square and not round can be either a pro or a con according to your own personal preferences on the matter.
Reliancer Expandable Gymnastics Bar – 140lb weight limit – 35"-51" height
The Reliancer also comes in two color options: pink and blue. Unlike the other two gymnastics bars on my list, the frame for this option has a completely different design. Instead of having supports that are flat on the ground, its supports are in the form of an A-frame.
This A-frame starts halfway up the sides of the frame, goes out and down to the ground, and then goes straight across to the other side parallel to the horizontal bar where it meets itself coming from the other side. In addition there is a small horizontal brace going across the A for extra support.
While it does not come with a mat of its own, it does have a total of 6 non-skid pads along the bottom to prevent any movement. It also has an added benefit of being able to easily fold, meaning that in order to move it out of the way you will not need to take it apart and put it back together every time.
What Should You Look For In A Home Gymnastics Bar?
When you are choosing your own gymnastics bar to put somewhere in your home there are a number of key factors that you should look at. If you fail to take these into consideration you could potentially end up breaking your new bars or simply be unable to really use them depending on the problem.
Height
The height that the gymnastics bar can go up/down to is probably the first thing that you should look at when trying to find a gymnastics bar. If you are just planning on using the bar for positioning exercises the height might not matter so much, but if you plan on actually doing circles on the bar you will definitely need to be able to go underneath it.
Ideally a home horizontal bar should come to the upper part of the gymnast's chest somewhere below his or her shoulders. This means that a kid that is 3' will need a bar that can go lower than 3' for them. However, since you will also want to put a mat of some kind underneath the bars, the mat will usually take up a few inches. The thickness of the mat is also something that should be taken into consideration.
Weight Limit
All home horizontal bars have a weight limit on them that is the maximum amount of weight that they will safely hold. If you put more weight than the recommended limit on the bars, you stand a very high chance of breaking them or bending some of the parts out of shape.
Even if you do not break or bend the bars by exceeding the weight limit, this can still cause problems when you practice since the added weight will make the bars tend to wobble back and forth some. This movement of the bars while you are trying to practice will not only affect your balance, but will also make trying to do your maneuvers that much more difficult.
Easy To Put Up And Take Down
While this may or may not be something that you have already though of yourself, unless you have a designated space where you can leave the horizontal bars set up all the time, you will need to be able to take it apart to move it out of the way sometimes.
Even if you do have the space to give your gymnastics bar its own area this feature can still come in handy. This is because hotel rooms can actually be a great place to practice when you are on vacation and especially when you might be staying in a hotel when traveling to a competition.
Practicing can be especially hard to do when you are on vacation, so having bars that are able to be put up, taken down, and transported easily can make keeping in shape that much easier.
Other Details
While those are the main things that you will want to consider, there are a few other details that you will want to think about. One of these is if you want rounded edges or sharp corners. Having sharp corners can literally be a pain when you hit them and are definitely going to hurt more than having a rounded edge on your home gymnastics horizontal bar.
However, sometimes corners can have a little more stability and can be easier to put together depending on the pieces. These advantages are very slight though, and it is usually better to go with the safety of having the top corners curved.
As mentioned, you will want to have a mat underneath your horizontal gymnastics bar. If you do not already have a gymnastics mat, then you will either have to find a bar setup that comes with its own mat or buy a mat separately.