A gymnastics leotard is an essential piece of a gymnast's wardrobe which they have to wear not only for when they are competing but also when they are training. This being the case, most avid gymnasts are to be found wearing their leotards just as much of the time as they are to be found wearing regular clothes.
In order for a gymnast to wear a gymnastics leotard this much of the time, it is vital that the leotard be as comfortable as possible on the gymnast. There are several things to consider that can affect the comfort, such as whether the leotard is for competition or practice, the shape of it, the fit, the brand, the type of fabric, the cut, the sleeves, and the shape of gymnast and their measurements should all be considered when selecting the perfect leotard.
What To Look For In A Gymnastics Leotard
In order to understand some of what you need to look for when you get a leotard, first it is helpful to take a look at what makes a leotard specific to gymnastics. Gymnastics leotards or leos for short, are made of nylon, spandex, and sometimes polyester or velvet.
Here's a great resource for getting a good deal on leotards.
They are form-fitting, usually with a higher neckline than other leotards. They also have longer sleeves and the newer sleeveless ones have thick tank straps. Leotards for gymnastics can also be designed with more patterns than other leotards.
It is expected for a gymnast to have more than one leotard. In fact, gymnastics leotards are usually classified into two main groups: competition leotards and training leotards. There are several reasons for this, at the very least a gymnast will need to have one of each of these two kinds.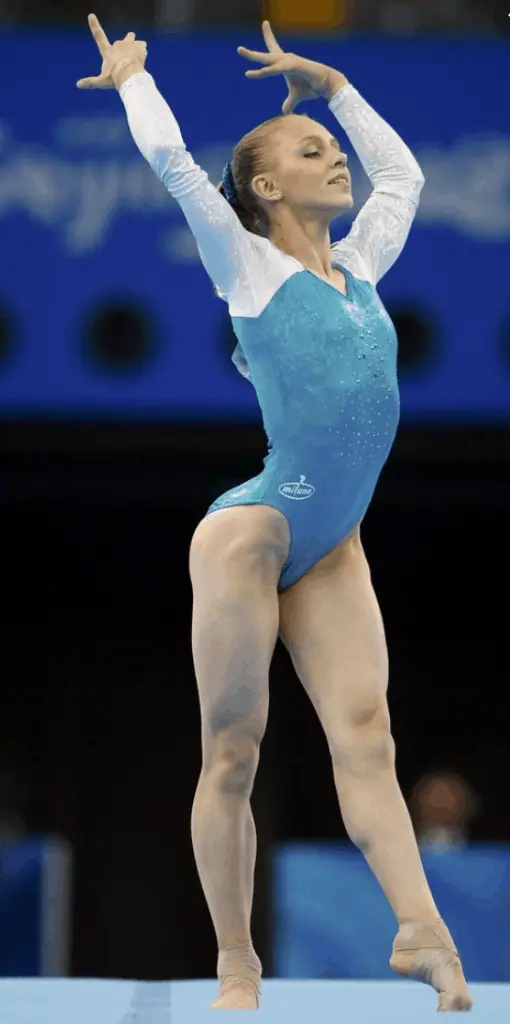 First, training leotards are usually the ones with the thick tank straps, while as their name implies the long sleeve leotards are reserved for competition. Although sleeveless leotards are becoming increasingly more popular in competition, the preferred leotards are long sleeve or three-quarter length sleeve.
There is a reason why gymnastics leotards that are made for competitions have long sleeves, and this is because of the fact that these leotards look much more professional and give the gymnast better, smoother lines. Since one of the things that the judges can judge a gymnast on is there lines, any little bit of help in this area is a good thing.
Another difference between training leotards and competition leotards is that competition leotards tend to look a bit fancier with sparkles and embellishments with the leotard itself in bright colors. While training leotards are plain, they can still be in bright colors but they won't be adorned with rhinestones or other embellishments and will look more playful instead of professional.
The most important thing you want to look for in a leotard, no matter which category you are getting is the fit. With all of the tumbling, jumping, and landing that you will be doing both in training and during the competitions you will want a leotard that will stay in place while your body is moving.
This is especially important because in competition judges will deduct points for undergarments showing, a leotard being too high on the hips, and even being too see-through. Most coaches will say that fit ranks above comfort when choosing a leotard, but you goal should be to find a leotard that fits well and is high in comfort too.
There seems to be a strong vote for the training leotards ranking as most comfortable. This is mainly due to the spandex, nylon, and lycra blends allowing so much movement and being extremely lightweight. The gymnasts are able to move about while performing back handsprings or while on the balance beam.
Due to having no sleeves, training leotards also keep you a little bit cooler than some of the other materials and are softer on the skin. For practice or training, sleeveless also seems to be the most comfortable choice, unless it is winter or your gymnast is practicing in a colder climate.

The style of leotard will be dependent on many factors, and there are several choices. Remember to always first consider the functionality and comfort level of the leotard. Decide what sleeve length you prefer and with which type of back. The goal should always be function and comfort.
The style of the leotard is another factor in both the comfort and the look of the leotard. Leotards used to be very plain for gymnasts, but now fabrics aren't the only choices gymnasts have. The fronts of the leotards still have higher necks than other leotards but the backs come in many different styles.
The most common types of leotard backs are racer, tank, cami-strap, key-hole, and wide open. When choosing a back it is important to decide beforehand whether or not as a gymnast you will wear a bra. Again, if your bra peeks through during competition points will be deducted from your score so it might be better to opt out of wearing one.
Common Mistakes When Selecting A Leotard
One of the most common mistakes made when selecting a leotard is getting the sizing wrong. The most important thing is to get the measurements of gymnasts in order to compare it to the manufacturer's sizing chart. If you think that you are getting the measurements incorrectly you should see a seamstress or tailor to get the proper measurements.
Along with not getting properly measured, sizing down is another common mistake. When you are measuring correctly but your gymnast is in between sizes, you should always size up. Sizing down is not a good idea because it can restrict movement which is a disadvantage for a gymnast.
When it comes to shopping for a leotard online, many newcomers end up choose low-quality leotards that are not durable or that have the tendency to rub in spots. These are from websites that seem to have great deals but are really just selling a subpar product.
Remember, like with most products, you get what you pay for. Skimping on price may hurt in the long run if you have to keep replacing a leotard that keeps tearing or ripping. Also, keep in mind cheaper fabrics that are less durable won't hold up after multiple washes.
Remember to consider the physical activity you will be performing while in a leotard. Consider that when you are selecting a leotard for yourself, or for your young gymnast. Each style has a different performance value and different limitations on movement.
Selecting fabrics that do not provide breathability and move-ability is another common mistake made when first selecting a leotard. Again, it is important to remember that there will be a lot of movement and sweating going on in the leotard so you will want a fabric that will accommodate this. So for practice leotards remember to stick to more durable lightweight spandex or lycra blends.
Although training and competition leotards are very different in looks, gymnasts hope they can get as close to a match in comfort as possible. The choice for comfort with competition leos tends to be a mystique with a three-quarter sleeve. Designs obviously vary by gymnast's taste, but most mystique provides the flexibility of a training leotard with the elegance and shimmer of a metallic one.
The design can be another common mistake that you can make with a new leotard. The error that you could make here is selecting a competition leotard that does not reflect the tone of the routine and music that you have selected. This is important because some judges will grade harshly in this area. It's always a good idea to confirm with your coach in this area because of this.
Designs should compliment a gymnast's personal style. They should also reflect the tone of the routine and music. They should be just flashy enough to compliment the skill of the gymnast without overpowering it. If there are concerns over whether or not the design fits the criteria for competition, check with the coach.
With all the types of leotards on the market, it is also fairly common to accidentally purchase another type of leotard if you are new to gymnastics. This can be a pretty common mistake since there are leotards that not intended for gymnastics use.
The reason you don't want to do this is simple, gymnastics leotards are made specifically to allow a gymnast's movements to be consistent with the maneuver being performed. Let's say you accidentally purchase a ballet leotard, it may restrict the shoulders causing you to not have the full range of motion in your arms.
This would make you unable to perform some of the skills of your routine. If there is ever any question about what leotard you should purchase, you can always ask the coach. They have been around the sport, know the requirements, and know what works best with the types of movements required.
Finally, don't get swindled by anyone claiming to have low cost, high-quality leotards online. When buying for the first time, ask around. Talk to coaches, other parents, other gymnasts, anyone that has insight into the best companies to buy from.
What You Will Need To Know Before You Start Shopping
While obviously the first thing that you will need to know is if you are looking for a competition leotard or a training leotard, there are other things that you will need to know ahead of time. One of the things that you will need to know is a few different measurements.
There are several things that can be agreed upon, one getting the right fit is the number one rule when finding the right leotard. Let's face it a properly fitting leotard will be more comfortable than one that is too big or too small.
Each company has its own way of sizing the leotards that it makes, so even knowing your size for one of these companies is not something that is going to help you out any. There are four main things that you are going to want to measure so that you can choose the right size for your leotard.
When using these measurements to shop online always consult the manufacturer's sizing charts for any other recommendations and comparisons to your measurements. When in between sizes for torso/girth go up to the next size, do not go down. If you are buying a leotard in a store they may or may not be able to measure for you so be prepared.
Chest
To get the best chest measurement for your chest, your arms should be held out to the sides. Instruct the individual being measured to take a deep breath and hold it in. Measure just under the armpits, all the way around so you are under the chest.
Torso or Girth
This is one of the most important measurements for the fit if the leotard. To get this measurement, get the sewing tape measure and find the center of the shoulder and then hold the end of the sewing tape measure there. Next, take the tape measurer through the crotch area and bring it back to the same shoulder. Make sure it is snug as this is the main measurement for the leotard.
Waist
Perhaps the easiest measurement of all, simply look for the natural waistline and then measure it. Take the sewing tape measure completely around the waist.
Hips
To measure the hips be sure to include the fullest part of the buttocks as well. This will ensure that the leotard provides full coverage and that there will be fewer risks for accidental wardrobe malfunctions.
The Fabric
Another very important part of the comfort of a leotard is the material that it is made out of. The ideal materials for gymnasts are ones that move easily with their bodies, are breathable, and lightweight. In more recent years, there have been improvements in fabric technology both for performance and aesthetics.
High-tech shiny fabric is now being used to not only create beautiful iridescent looking designs but also to enhance and sculpt the muscular bodies of the gymnasts. The elasticity of leotards has also improved for increased movability and comfort when performing the more intense maneuvers.
There are many different blends that can be used to make a gymnastics leotard stray from the traditional nylon, polyester, spandex, or velvet fabrics. Each of these have pros and cons and some people find one more comfortable than the others.
Select a fabric that suits your needs for both training and competition. Consider what events you will participate in a competition, are there rules regarding types of leotards you can wear? What fabric will allow you to complete the movements required for each aspect of each routine? Consider the temperature where you will be and how the fabric will impact your internal temperature.
Nylon Spandex
This blend of 20% Spandex and 80% Nylon is similar to what swimsuits are made of. It is sleek, stretchy and very durable. This fabric can be washed in the washer, and in most cases dried in the dryer on a low heat setting.
Cotton Spandex
This blend also known as Cotton Lycra is breathable and soft. This fabric tends to shrink after washing so it may be a good idea to hand wash this one. This fabric blend is on the more inexpensive side so if you are on a budget, this might be a good option to look into.
Spandex/Lycra
Comfortable, stretchy, and it stays in its place, lycra is one of the most popular leotards for training but it isn't eye-catching enough for competing. This fabric allows for movement during the toughest maneuvers without worry that the leotard will move out of place. Another great pro is that Lycra is machine washable.
The downside of the spandex blends in general is that the embellishments and rhinestones fall off easily. These are however the most comfortable and moveable for gymnasts.
Velvet and Velour
Whether crushed or flat, these fabrics aren't as popular as they once were several years back. The main reason is mainly due to the lack of breathability and the strict washing requirements. They remain popular because the material is so forgiving.
There is a stretch velvet blend made up of poly and spandex which is still popular because of the look and stretch of the fabric. It still lacks the breathability of the other fabrics though, and it tends to cause gymnasts to get sweaty even when not working overly hard. Some recommend that all the velvet and velour fabrics must be hand washed and hung to dry. Others wash and dry their velvet and velour leotards in washing machines and have no issues with durability.
Mystique
Perhaps the most interesting fabric used in gymnastics leotards is mystique which is an 80% Nylon and 20% Spandex blend that gets layered with thin, flexible foil and holograms. This is the shiny iridescent material that sculpts the muscles of the gymnasts. It can be embellished with other decorations like rhinestones, or designs.
Metallic
These leotards are mainly used for competition because they are flashy and bright. The main problem with metallic fabrics is that the material doesn't give, especially in the shoulders and torso. Since there isn't much give in the fabric, buying a larger size won't fix the problem.
Caring For Your Leotards
Once you know what leotard you want to get and have bought it, then caring for it become very important to make sure that it will last you as long as possible. Since there are different fabrics that you could have chosen from, it is of the utmost importance to follow the care instructions recommended by the manufacturer of the leotard you purchase.
Some general rules to increase the life of your leotard are, always wash your leotard after each wear, since sweat from your body will decrease the durability of some materials. Second, when washing in the machine always wash it inside out and separately from other clothes.
Use a very small amount of mild detergent and the proper amount of water, the more the better so the detergent rinses out. Never let your leotard soak in water if you are handwashing do it right away. If washing in the machine, remove it immediately after the spin cycle.
Hang dry unless the care instructions allow drying in the dryer which will usually have you drying it and a very low heat setting. Never use fabric softener, never dry clean, and never iron. Following these instructions and the instructions listed on your leotard will increase the longevity of your leotard.
Common Mistakes When Caring For Leotards
It is very important to remember that leotards need to be washed after every use. While you might think otherwise, with the amount of working out that will take place while wearing them, you will probably want to wash them anyway.
However, there is a reason behind why you should wash them anyway and it isn't just for good hygiene practices. When you sweat your body releases bacteria. This bacteria can discolor the material and decrease the longevity of your leotard for a number of different reasons.
Not washing your leos after every use is a common mistake that is made, many people think if they don't work out too hard they don't have a reason to wash it. That thinking is incorrect. For the increased durability of your leotard wash after every use.
Dry cleaning competition leotards is also something that is a very common mistake among beginning competitors. Not only is this not necessary, but it is also damaging to the leotard and the intricate designs. Another reason you don't want to dry clean your leotards is that the dry cleaning process may embed sweat stains and odors into the fabric long term.
Another mistake that is made in the proper care of leotards is not reading the care labels on the competition leotards. The best way to care for your leotard is to do so in the manner that the manufacturer intended.
Not following the care instructions will decrease the durability and longevity of your leotard. If you want the foil embellishments and pretty sparkles to stay on, you should follow the instructions for proper care.
Using the wrong laundry detergent or putting too much on is a very common mistake. Only mild detergent should be used and only in small amounts. While on the subject of detergent, fabric softener is another mistake that is made when laundering leotards. Fabric softener should not be used, especially when the leotard has rhinestones, foils or appliques. The fabric softener will ruin the integrity of the embellishments.
Perhaps the most common care mistake is washing leotards with other clothes. Leotards should be washed separately from other clothes. This will cut down on the probability of oils, dyes, and other foreign material getting on the leotard on ruining it.
Also, the other main reason why you should wash these by themselves is that it will also prevent any zippers from ripping the fabric or buttons from stretching out the leotards out by catching on the fabric and making those twisting knots in it.
Tips On Wearing Leotards
Now you know what to look for when seeking comfort in both a training or practice leotard and in a competition leotard. You know how to care for them and how to avoid the most common mistakes made when it comes to selection and basic care.
Once you have your leotard and you would like to make it stay in place, especially during difficult moves, the pros recommend using a body adhesive called "Butt Glue." The adhesive keeps the leotard from riding up on the gymnast while in training or competition.
While on the subject of leotards riding up and revealing parts of the body that should remain unseen during practice and competition, there is the issue of undergarments. As mentioned, if an undergarment can be seen during competition a judge will deduct from the score.
As mentioned, you do not have to wear anything underneath your leotard any more than you do under a swimsuit. If you are old enough to have a figure, there are leotards that have the bra cups built into them for the most amount of comfort possible.
Many gymnasts elect to wear a leotard without undergarments both for comfort and to eliminate the risk for a deduction in points. Think of wearing a leotard like wearing a bathing suit. If you really feel the need to wear underwear with your leotard, there are high-cut briefs that are made to fit under the leotard without being seen.
As far as comfort is concerned, it is sometimes more comfortable to wear a leotard without undergarments based on how formfitting it is. Some leotards even have built in cups so that you do not have to wear a bra underneath it and yet you can get the same support as though you were wearing one.