There are a number of advantages when it comes to ordering your gymnastics leotard online. Not only are there much more options to choose from, but you can also get the best prices. Perhaps the only disadvantage is that you do not get to try these on first. However, some of the best sites to buy gymnastics leotards from also include sizing charts and have great return policies if they don't fit right.
The top 5 online sites to buy gymnastics leotards from are: GK Elite, Snowflake Designs, Foxy's Leos, Alpha Factor, and Amazon.com.
However, each of these has its own pros and cons, so perhaps telling you more about these different places can help you to decide which one of these might be the one that you want to go with when it comes time to order your gymnastics leotard.
The GK Elite brand of gymnastics leotards are certainly one of the most well-known brands that there is. One of the reasons is that this company has practically everything that you need. This includes leotards that have a variety of different themes. Some of these themes are Disney, Marvel, breast cancer awareness, Olympic themes, and a variety of other options.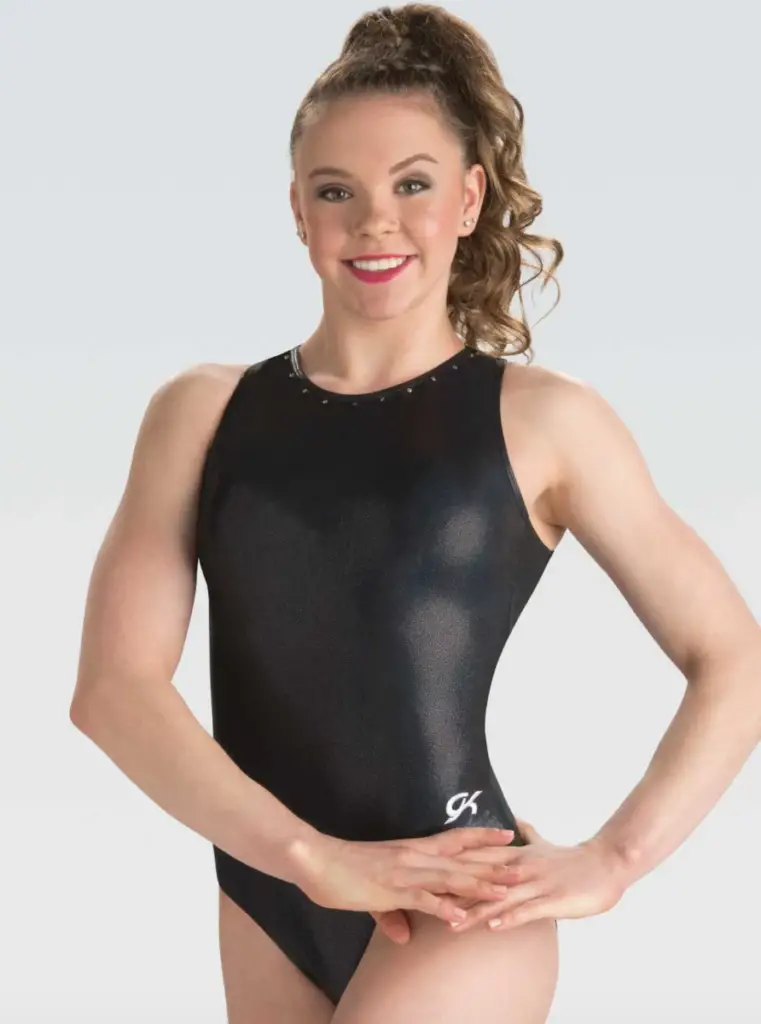 On top of all of these there are also a few different options that allow you to have your own name personalized onto your leotard. Finally, they even have some leotard options for American Girl Dolls, should your daughter want to dress her doll up in a gymnastics leotard that matches the one that she is wearing.
All of the GK designs feature their logo on it, and most of these designs have that "sparkly" effect which can be due to having rhinestones, as well as holographic prints. With their hundreds of different options and sizes to choose from, they also have some very handy sizing charts to help make sure that you get a leotard that not only has the design that you want but that also has just the right fit.
While their prices do tend to range quite widely between $30.00 for training leotards to over $300.00 for competition leotards, they do have some great sales that can offer one of their leotards for only $20.00. One great way to make sure that you never miss a sale is to make sure that you sign up for their emails that let you know when they are having one. Sometimes for a very short amount of time they have even been known to have a sale which offered 2 new leotards for $30.00.
Lastly, this site also sells a wide variety of other gymnastics apparel. One section is entirely devoted to men and boys with everything that they would need to wear in gymnastics classes, and there are also gymnastics shorts and well as cheerleading items.
Snowflake Designs is a bit less known than the last site, but it still has a ton of options when it comes to gymnastics leotards and allows you to easily find everything that you need. Their prices tend to range anywhere from $30.00 for their training leotards to nearly $300.00 for their competition leotards and a fair amount of these come with a matching scrunchie that is the same fabric and color as the leotard.
One great feature that is quite unique to this brand is what they refer to as their "grab bag" leotard deal that you can get with them. This often costs under $20.00 for a leotard if you go this route. Essentially how the grab bag works is that you select the size that you need the leotard to be and then you get a random leotard which is that size.
These grab bag sales may or may not come with the matching scrunchie and can be a great option if you are not particular about the design or color that you end up with. However, the grab bag is not the only kind of sale that Snowflake Designs sometimes has. They also have what can be referred to as regular sales where they have a clearance or simply offer a discount on a leotard. These can lower the price sometimes all the way down to around $15.00 for a gymnastics leotard.
In addition to having some availability to have personalized leotard with your name on them, Snowflake Designs also have a number of options for metallic leotards as well as ones that simply have metallic designs to them. They also have some velvet options that can be nice and can provide a little bit of added warmth for the cooler weather.
They offer a variety of other things that go with your leotard such as matching doll leotards, athletic wrap tape of various colors, and wrist bands of various colors that make it easy to find the right color to go with the gymnastics leotard that you pick. Finally, they even offer rhinestone kits so that you can add rhinestones to any of your leotards that you might want to add them to.
Foxy's Leotards, which is sometimes shortened to Foxy's Leos, has a unique story of how it got founded. It all started in 1985 when a mother named Sue who was great at sewing decided to make leotards for her gymnast daughter, creating her own whimsical designs to put on them. As Sue and her daughter Jill were traveling around the U.S. to participate in gymnastics competitions, people kept asking her where she got her daughter's leotards from.
Eventually Sue started selling some of the leotards that she made in her spare time, the amount of people who wanted them spreading by word of mouth until she had a full-blown business. Even today they have a team of seamstresses who hand-make each and every gymnastics leotard that they sell in order to make sure that each one has the good quality that gymnasts need.
With Foxy's Leotards being made by a gymnast family for gymnasts, these leotards tend to be some of the most comfortable ones out there, with many of their designs featuring an open back to allow you to stay cool while you are training hard and they do not tend to have those places on them that can rub like other brands of leotards can do sometimes.
They not only sell leotards, but they also sell some unitards, some gym shorts, gift cards, bags, and some doll leotards as well so that you can get everything that you need. While most of their leotards are spandex, they do have a few options for velvet leotards which are in their Ultra Soft collection. Their designs are very fun to wear and look really nice.
In addition to that, they even have a great rewards program that gives you points that you can save up and spend to buy something from them. Their prices range from $16.00 to nearly $70.00 per leotard, but they also have some great sales if you watch for them, with a "mystery" leotard in either an adult or a child size sometimes costing as little as $10.00. This makes them both very affordable in addition to being well-made.
If you are looking for leotards that are highly customizable so that you can make your leotard into something that is one of a kind, then the Alpha Factor is probably the place that you will want to get your leotard from. However, this does come with a price, making the Alpha Factor leotards a bit more on the expensive side.
You actually have to make an account with them before you can even see the prices on their site, however you can look around at their options, and even go through the process to see what your own customized leotard would look like before you have to sign up. This can let you know if it is even something that you would be interested in doing.
When you customize your own leotard, you get to choose from the different designs, select from any number of colors for each part of the leotard, and you even get to choose the color of the gems or sequences from the range of colors that they offer. This means that you will be much more likely to have a leotard that is truly one of a kind.
When it comes to Amazon.com there are very few things that you can't find on this website, so much so that it can be exceptionally hard to narrow down your options and pick only one leotard. These not only come in a wide variety of prices, but they also make a number of different brands available. However, most of the time these are far less likely to come with a warranty like what you would get if you were to order your leotard directly from the makers.
You also have to pay close attention to who the maker of the leotard is so that you can try to gauge the quality of it, since there are undoubtedly some very cheap leotards that are equally cheaply made and that you will want to avoid getting. Also, most of these will not come with the sizing charts that you need in order to help you pick the right size for you, nor will there be any rewards programs or great sales like each company can have if you are buying the leotards from their site.
These downsides are balanced out though by the number of options and the fact that Amazon is quick and easy to use which is one of the reasons why it is so popular. If you already have an Amazon Prime account, then you will get your new leotard in much faster than you could get it from anywhere else, which can be a great thing if you forgot to buy one and you need it for practice by the next evening.
How To Pick A Gymnastics Leotard
Between all of the different materials, brands, designs, and all kinds of other choices, it can make it really hard to find just the right gymnastics leotard. The first thing that you should probably know is that the no-sleeved leotards, which are sometimes referred to as tanks, are considered practice and training leotards.
It is the long-sleeved leotards that are usually preferred for wearing during competitions. This helps to give the gymnast a more professional and slimmer look while she is performing in front of the judges. Though most of the time the sleeves are fully long-sleeved, there are also leotards that have sleeves which are ¾ long as well.
Unitards are the other option as a type of leotard that girls can wear during their training. Like the tank option the unitards give the gymnast her full range of motion, but these also cover a little bit more in the place of the gymnast having to wear shorts over her leotard.
Fabrics
There are three main fabrics that gymnastics leotards are most often made out of, each of which can be great depending on what you are looking for. Spandex is no doubt the most common one of these kinds, with Lycra being a fairly common brand of spandex. These are very lightweight and very breathable, making them good to wear even in the summertime.
Spandex is also very pliable and stretchy, and is made to fit tightly to the skin of the gymnast but yet to freely move as she moves. It is this kind of fabric that is the easiest to customize and tends to have the most variety in terms of the different designs that you can find these with.
The next kind of fabric that you are also likely to see can either be referred to as metallic or hologram. This kind of fabric is what makes those shiny looking leotards. While it is nearly as lightweight as spandex, it lacks a little bit of the flexibility of the latter which can make it not fit as good due to having less stretch.
However, another thing that you should consider about metallic fabric is that after repeated washings the "shiny" will wear off and leave the leotard with a dull look. Just how many washings it will be before this happens will depend on the quality of the fabric and whether or not you follow the washing instructions to the letter.
The third, and last of the most common three fabrics, is velvet which can sometimes be referred to as velour. Like you can probably guess just from its name, velvet leotards are ones that have that soft, velvety feel to them. This makes them both heavier and thicker than the other two leotard options.
In spite of that though, the velvet fabric does still have a very comfortable amount of stretch – even more than some of the metallic kinds do. Another feature that this kind of fabric has is that it does not stretch as tightly up against your skin. This means that even though it will have a comfortably tight fit, it won't show every indentation in your muscles in the same way that spandex in particular can do.
Size
One of the most important parts when choosing a gymnastics leotard is making sure that you get the right size that will fit you. There are five different measurements that you should know when you go looking for a leotard, though sometimes only four of these are used.
When you are measuring these areas you should make sure that whatever you are wearing is something thin like spandex in order to make sure that the thickness of your clothes are not adding to the measurements, and you will also need to have a flexible sewing measuring tape that can wrap around you without any problems. If you are measuring yourself you could do so in a bathroom in only your undergarments in order to get the best results.
The first measurement that you will need is often referred to as either your chest or your bust line and, as the name implies, is how many inches you are at the widest part of your bust line while you are inhaling. Your waist should be measured next, followed by your hips where you feel your hip bones at. For each of these as you measure all the way around yourself you want the measuring tape to be perfectly horizontal without any parts sagging towards the floor.
The fourth thing that you should measure is perhaps the most important and is called your girth measurement. This is measured from the center of your shoulder where the strap would go, down through your crotch, and back up to the center of that shoulder. If any of the measurements disagree with what size you fit in, it is generally advised to go with the right size for your girth.
The last measurement that is often taken and is only sometimes used is the length of your inseam. This is the measurement of the inside of your leg starting from your crotch area down to 2" below your ankle bone.