Gymnastics mats are quite possibly the most important piece of gymnastics equipment that you can get for home training. They are also one of the less expensive things that you can buy in order to train and home as well as one that is less likely to be outgrown.
Gymnastics mats can cost anywhere between $20.00 all the way up to well over $1,000.00 for gymnastics mats that are long enough to practice your tumbling passes on. Most good gymnastics mats of an average size will cost somewhere between $30.00 to $80.00 to buy one.
There are a number of different factors that affect this price, most of which boils down to what you are looking for in a gymnastics mat. Knowing what you need to look for in one is a great thing to help you narrow down your choices and estimate how much you might need to spend on one.
What To Look For In A Gymnastics Mat
The most important features of gymnastic mats are cushioning, durability, surface finish, and they must also be easy to clean and portable. The main purpose of gymnastics mats is to let a gymnast practice different skills safely so that if she falls or does something wrong when, say, doing a backflip for example, that she will not get hurt.
What It Is Made Out Of
What a mat is made out of can affect a lot of different aspects of it. Since mats are pretty much always synthetically made, there are a variety of chemicals that can go into their making such as formaldehyde. If you or your young gymnast are sensitive to that sort of thing then this is definitely something that you should look out for.
If you are in doubt it would be far better to pay more to get a mat without these than to simply assume that your gymnast won't react to it. Don't forget that sometimes people who may not have been born with a sensitivity to something can develop a reaction to it over time.
A non-absorbent polymer coating for its outer layer is one chemical that, if you are physically alright with it, is great to have. This helps to protect your gymnastics mat from melting due do heat or fire and it also helps protect your mat from being punctured. If you are looking for a mat that has this feature to it, check to make sure that it is PCSIA compliant so that you can know that it is safe around children.
This is because the most common three things that you might want your gymnastics mat to be free of are lead, formaldehyde, and phthalate. A mat that is PCSIA compliant is free of these three things as well as other chemicals that you might not want to have around young kids.
One other outer layer that you might see is a non-absorbent polyurethane leather. This is not only puncture and fire resistant, but it is also water resistant and easy to clean and it is does a great job of not slipping even on hardwood floors. However, this coating is not very durable if it will be getting a lot of wear.
Another synthetic material that you are likely to see is called expanded polyethylene foam (EPE) which is a dense foam that is made to keep you from sinking into it while still giving you cushion when and where you need it most. Similar to that one is something that is cross-linked polyethylene. While you do tend to sink into this one a bit more, it is often covered with a vinyl material to counteract this.
Other than polyethylene, the other common option is different kinds of foam. Expanded rubber or rubber foam tend to actually repel pressure, giving you a little bit of bounciness which can be actually helpful if you are practicing your flips and things of that nature. Then you have bonded foam which is heavier that regular foam and also a great option.
Thickness
There is a wide variety when it comes to how thick a mat for gymnastics is, but the usual range is between 1" and 2" thick. A 2" thickness is usually more than what you need and is enough to cushion even the hardest of falls, so you should probably not go with more than that and should more than likely go with less.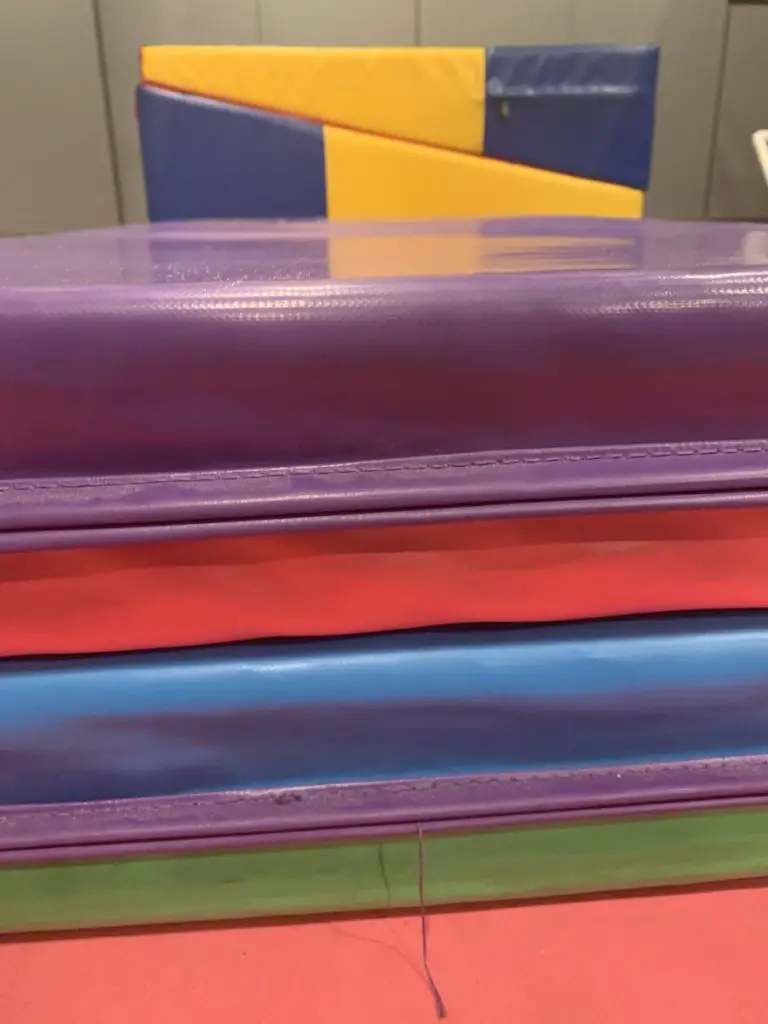 Also, another thing that you should know is what you intend on doing on it and the age and size of the gymnast who will be using it for training. An older gymnast will likely be doing more complicated moves and so it will be much more important to have balance between being cushioned enough for them and being stiff enough so that they are not effected by sinking into the foam.
With a younger gymnast they will not need as much in the way of thickness since they will weigh less, but since they are more likely to make mistakes and are not doing anything too complicated it is generally best to err on the side of there being too much cushion in their case.
Length And Width
Mats can come in a variety of different sizes. When thinking of what size you need you should make sure that the width of the mat will fit under whatever bars that you have or want to get unless you plan on getting another mat that will fit for that. Usually 3' to 4' wide is a good idea and will fit under some of the bar options.
When it comes to length you need to take into account the height of your gymnast. The taller that they are, the more length will be needed in order to give them room so that they can do things like flips while still landing on the mat, with enough space in case they fall over when they land. Gymnastics mats often come in 6', 8', and 10' lengths.
Other Optional Features
There are a number of optional features that you can find in gymnastics mats. One common one that is nice to have is a sewn-in handle somewhere on it so that when you fold it up it is easy to carry it. This often goes hand in hand with how the either three of four panels fold but is something that is not really found on mats that roll up.
Another feature that you will find useful is Velcro straps on the sides that can allow you to securely attach another mat with the one you have. This makes your practice area a lot bigger without you having to be afraid that they might slip apart as you are practicing and might be something that you will need as you work on the more difficult gymnastics moves that require more space.
You do need to pay attention to which sides has this attachments, however, since some gymnastics mats that have this feature only have it on the ends so that you can lengthen your mat and do not have it on the sides so that you can make it wider.
Another feature that is nice to have in a gymnastics mat is that it can have a zipper that allows you to take the cover off of the foam – sometimes even withstanding being put into the washer. This is very handy to have for obvious reasons, yet this can wear faster on both the cover when you wash it as well as on the foam inside as you take out and in. Another thing that you should beware off is that there can be a small amount of sliding in between the cover and the foam inside it depending on what you are doing on top of the mat.
Conclusion
All in all, when you are choosing a gymnastics mat you should be constantly keeping in mind what you are getting it for. If it does not do a good job of meeting the main things that you hope to get out of a gymnastics mat, then you should go with a different one even if it costs a bit more.
For example, if your primary goal is to have a mat that does a good job of cushioning your falls when you are learning a new skill, then you should not go with a mat that is made to last you for years and yet does not do as good of a job of protecting you from getting injured.