The world of gymnastics can be vast and intimidating. If you or someone you love has just started gymnastics, you might have a lot of questions. Starting with: how many levels are there in gymnastics? What do they mean? How did these levels come about, and how do I choose which program is right for me?
The Junior Olympic (JO) Program has levels 1-10, and the Xcel program instead has five divisions from Bronze to Diamond. These are the main two gymnastics programs that you will find in the U.S., though there are a few others which I will get to later on. The two programs are completely separate from each other and achieving a level or division in one program does not allow you to advance levels or divisions in the other.
In both of these programs the levels/divisions begin with basic skills such as handstands, cartwheels, and jumps. As the young gymnast's skills improve, gymnasts will be expected to perfect aerial moves and more complicated maneuvers on the bars and beam.
In the compulsory JO levels all of the gymnasts will be expected to perform the same routines during the competitions while Xcel gymnasts may use custom choreography. Both programs are considered quite rigorous, but the JO program is older and more established as a path to Elite and therefore to Olympic team qualifications.
When choosing which gymnastics program to participate in, gymnasts and their parents need to consider many different factors. Each program has unique levels with different requirements, and if your ultimate goal is to advance to the Elite program, to the Olympics, or even to a college scholarship then you will need to plan your training thoughtfully.
The Junior Olympic Program
As the original USA Gymnastics (USAG) program, JO is a natural choice for many gymnastics students. While Junior Olympics has ten levels, only levels 4-6 are compulsory, or required for all gymnastics students. Those who want to start practicing and learning basic form and routines before competing may take classes in JO levels 1-3, and those who wish to compete beyond the graded levels can continue to JO levels 7-10.
As mentioned, in the compulsory levels of the JO program each of the gymnasts is doing the exact same routine as the other gymnasts. However, once the compulsory levels are passed the gymnasts then start making their own routines for each of the events.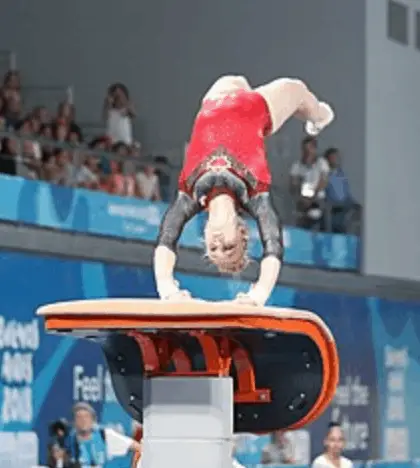 These levels still have certain gymnastics skills that must be done by the gymnast in each of her routines, but this greater freedom allow her to choose the skills that she is best at in order to highlight her strengths. This means that if a gymnast does a good job in putting their routines together than they often find it easier to get a better score. Making a routine is something that can either be easy or difficult to do depending on the gymnast.
After completing levels 6-10 on JO gymnastics, you can graduate to the Elite program. This is the equivalent of "going pro" in most sports. For those exceptional gymnasts who wish to try out for the Olympics, the Elite program is their next step towards that goal.
Despite its name, however, the Junior Olympic program is not officially endorsed by the Olympic Games or directly connected to them. However, it is designed to prepare young gymnasts for the USAG programs that do funnel directly to the Olympics (TOPS, HOPES, and Elite).
Before August 1, 2013, the developmental levels in JO were numbered 1–4, the compulsory levels 5–6, and the optional levels 7–10. The old levels 1 and 2 are now combined into the new level 1, while level 7 has been split into the new levels 6 and 7.
The numbering of levels 3–6 has each been shifted down one level for the new system. Also due in part to this change is the fact that level 6 in the JO program is the only level that is allowed to be skipped since it has very little in it and what is does have in it can be learned while in level 7.
The JO program was developed with the belief that all athletes, regardless of their potential, must have a solid foundation of basic skills to advance safely. The program allows the gymnast to advance at their own pace, competing at more than one level in a year if they choose or staying at a certain level for as long as they need to.
It was started by USA Gymnastics to give young athletes a chance to hone their skills and compete with their peers. Before this program was formed hopeful gymnasts had to train at whatever private facility was available in their area and without full assurance that the training would actually qualify them to go professional. Because of this, before the Junior Olympic program got well known and widespread, young gymnasts often had to seek out former Olympic gymnasts to coach them if they wanted to qualify.
The Junior Olympic program was started in the 1990s to standardize gymnastics training for hopeful Olympic athletes. Although its development isn't credited to a specific person or group of people, it seems to have been standardized across training gyms in the 1990s and early 2000s. The history of the development of the levels is not well documented, but it is likely based on the training and experience of former Olympic gymnasts who went on to coaching careers.
The first three levels are considered developmental. Young gymnasts forge a solid foundation of basic skills. By the time a gymnast reaches Levels 4 and 5, they're able to enter into competitions. For example, the floor routine for a 7-year-old at Level 5 requires some tricky maneuvers, such as a forward flip or salto, a straddle jump and a 360-turn in forward passé. Before she can advance to Level 6, she also has to do a round-off into a back handspring and then a backflip.
USA Gymnastics, formerly known as the United States Gymnastics Federation, is a nonprofit organization established in Tucson, Ariz., in 1963. The first Board of Directors began the time-consuming task of creating a viable national program for gymnastics in the United States.
During the mid-1960s the United States had scarcely 7,000 athletes competing a limited schedule. The only major international events for gymnasts at that point in time were the Olympic Games and the Pan American Games. Due to the hard work of U.S. gymnastics pioneers such as Frank Bare, George Gulack, Dean McCoy, Gene Wettstone and Arthur Gander, USA Gymnastics gained membership into the FIG in 1970, opening the door to numerous opportunities for U.S. gymnasts.
Women's gymnastics officially became a part of the Olympic games in 1928. As the competitions became more difficult, the average age of the gymnasts crept lower and lower. By the 1970s, it was becoming more commonplace for teenagers to compete in the games. Due to concerns about their health and well-being, in 1997, the minimum age to compete in the Olympics for gymnastics was raised to 16.
Recently, USAG began tracking the rate of attrition from level to level in the JO program – in other words, how many gymnasts began to drop out as the sport became more challenging and dangerous. The first drop in participation took place at Level 4, with the largest drop at Level 5.
Participation went from an average of 18,765 at Level 4 to almost half of that with a 47% decrease to 9,944 in Level 5. During Levels 5 through 10 there was a steady average decrease in participation at each level of about 23% to 36%. According to studies, gymnasts associated fear with the balance beam and uneven bars more than the other events.
More specifically Level 5 and 6 gymnasts feared the flyaway skill which is a dismount from the high bar where the gymnast swings forward, releases, and performs a backflip off of the bar. In Level 7 and 8, gymnasts feared flyways and giants which is a skill in which a gymnast rotates 360 degrees around the bar while in a fully extended position.
Level 4 advancing to Level 5 is the point where coaches and parents need to be most aware of the possibility of burnout and fatigue with the sport. One of the moves that causes the most issues for gymnasts at this level is "kipping," moving from a position below the equipment to a position above, usually on the uneven bars.
This is a difficult skill that requires a lot of core strength and has a higher potential for injury. Studies have shown that gymnasts are likely to quit at this point because of fear, fatigue, or a combination of both. This is also the point at which the time commitment for gymnastics increases, and gymnasts need to make the choice between JO and other activities.
The Xcel Program
The Xcel Gymnastics Program is a relatively new national gymnastics program that was started in 2013. It did exist in a from before this time and was originally called the "Prep Op" program in the early 2010s. It is a separate, alternate program to Junior Olympic.
You don't need to score out of any of the JO levels in order to compete in the Xcel program, and Xcel cannot be used to skip any of the JO program levels. For this reason, some parents are confused about why the Xcel program exists in the first place.
The main purpose behind Xcel gymnastics is to allow gymnasts to begin training and competing at lower skill levels, so they stay interested and motivated in the sport. Some students train and compete in Xcel before entering the compulsory levels of JO, while others use Xcel training to mobilize into compulsory levels of JO.
To "mobilize" means to compete in JO meets only with the intent of getting a passing score, rather than training extensively in that JO level. Additionally, some JO gymnasts may choose to participate in Xcel during the off-season so they can keep up their skills and fitness level all year.
The Xcel Program Divisions are: Bronze, Silver, Gold, Platinum, and Diamond. The requirements for the five Xcel gymnastics divisions are similar to those for levels 1 through 6 or 7 out of the ten in Junior Olympic gymnastics.
However, these divisions do allow for more customized routines to cater to an individual gymnast's strengths and avoid their weaknesses. For this reason, many gymnasts choose to train and compete in Xcel through the fifth level, Diamond, before mobilizing into Level 6 or 7 of JO.
Because of the fact that Xcel requirements allow for personally choreographed routines even at the beginning levels, it can be a better choice for gymnasts who are struggling with one or two specific skills required to pass JO levels 4 and 5 in the routines.
Another advantage to Xcel gymnastics is that it has less of a time commitment. For gymnasts who have other interests outside of the sport this gives them an opportunity to compete and advance in gymnastics while maintaining other activities. In addition, gymnasts in Xcel aren't required to compete in all events – and the entry fees are capped to make sure that the Xcel program is affordable for more students.
Much like JO, studies show that the rates of participation in Xcel increase through the first two divisions, and around midpoint of the program the rates began to fall as athletes drop out. The Bronze division had an average of 1,981 members, increasing by 57% to 3,117 in the Silver division.
This could be due to the minimum age requirement increasing to six years old, or possibly gymnasts who have competed in JO for a year or two and decided they want a less structured and demanding approach. Then in the Gold division, there was an increase once again of 2% to 3,193.
In Platinum, there was a large decline in membership, of 57%, to an average of just 1,358 members. Again, the withdrawal can be likened to increasing skill difficulty with kipping, now required on the uneven bars even in the Xcel program.
Diamond is the last division in the Xcel program and also had the least amount of members with an average of only 315. This division requires previous experience of Levels 7, in Junior Olympics which undoubtedly has an effect on the low memberships in Xcel due to the low participation at these levels in the Junior Olympics.
Withdrawal at these levels may also be due to injuries, or because of skill difficulties which would prevent advancing into an Xcel division. Like the Platinum division, the drop in Diamond division can also be linked to age requirements (minimum nine years old) and desire for more social time.
The Xcel athlete must still demonstrate the physical ability, work ethic, and coachability required to be a part of a competitive team, but without the expectations and standards of JO. The Xcel gymnast trains fewer hours in the gym, competes in fewer competitions that are, particularly at the lower levels, more local, and in general have less expensive uniforms. The Xcel program is perfect for the athlete who demonstrates talent in gymnastics, but who also wants to pursue other activities, or for the family that is unable to commit financially to JO.
Although Xcel experiences the same levels of dropoff in higher divisions, its overall participation numbers are on the rise since 2013. This is great news for the sport. In 2014, the first year of record, there were 7,443 athletes participating. The following year there was an increase to 9,923 and again to 12,531 athletes in 2016.
If you're looking to qualify for a college gymnastics scholarship, or even to compete at a professional level, the Junior Olympic program is classic for a reason. It's right in the name – JO is designed to create the best gymnasts, and it is probably the best path for those who dream of going to the Olympics. Without the discipline and rigorous training of JO, getting to higher levels in gymnastics may be an uphill battle for many gymnasts.
Depending on your goals, you may prefer to move through the five levels, or divisions, of Xcel gymnastics first. Or perhaps you just want to compete in gymnastics as a hobby, so it doesn't make sense to commit to JO. But if you want to go Elite and beyond, you will probably want to commit to at least a majority of the ten levels of Junior Olympic, or JO gymnastics.
Are JO And Xcel The Only Gymnastics Levels That Are Officially Recognized By The USAG?
While the JO and the Xcel program are the two most well known programs, there are a number of others that have levels to them as well. For women's gymnastics, the Talent Opportunity Program (TOPs) is a nationwide, annual program to identify young gymnasts who have the ability to excel in the sport.
More than 3,000 gymnasts participate in state and regional testing, with more than 300 qualifying for national testing based on their scores. Testing is conducted for gymnasts 7-11 years of age, with the 9-11 year olds eligible to advance to national testing.
The best 7-and 8-year-olds qualify based on their test scores from state and regional testing, while the 9-11 year olds are named to the team based on national test scores. The TOPs National Team has about 70 gymnasts, with approximately 20 gymnasts in each age group. TOPs is another path to Elite gymnastics for those who may not have access to a gym that is USAG certified.
Additionally, there is the HOPES program which is designed for gymnasts ages 10-12 who are not yet ready for Elite but who exhibit high talent in that direction. HOPES provides athletes with an opportunity to compete the traditional Elite compulsory and a modified FIG Optional routine and includes an opportunity to qualify to the Challenge (HOPES division only).
This program is a 'Pre' Pre-Elite program. Athletes compete in the same qualifiers as their Elite teammates and earn their way up the ranks! The HOPES program was initiated in the 2006 season and was a tremendous success. Since, it has been a wonderful asset for some of our countries most aspiring talent.
Finally, for those who aren't looking to go pro, Gymnastics For All is one of the eight gymnastics sport disciplines officially recognized by gymnastics organizations worldwide. This diverse sport program provides opportunities and activities for all ages and levels of abilities. Gymnastics For All activities contribute to the development of general sport skills, fitness, health, important movement patterns and daily life skills.
The diverse range of activities and opportunities available within GFA is what sets it apart from the other disciplines. Regardless of age, the opportunity to actively participate in Gymnastics for All is available. This includes Children (5 years & under), Adults (18+ years) and Seniors (50+ years). All ability and skill levels can participate.
Summary And Conclusion
The two major gymnastics programs recognized by the USAG are the Junior Olympic program and the Xcel program. Junior Olympic has ten levels, of which only three are compulsory, and Xcel has five divisions. While neither program is an official guaranteed path to going pro, gymnasts who are aiming for the gold will likely want to enroll in JO, or a combination of JO and Xcel. Xcel is a more customizable, affordable program, but it's only existed since 2013.
In both JO and Xcel, gymnasts tend to drop out roughly halfway through the program as the levels become much more demanding and dangerous. Skills involving aerial moves, uneven bars, and other moves requiring excellent core strength (and with a high risk of injury) are major reasons why gymnasts may drop out. Additionally, the time commitment for both JO and Xcel become a lot higher at this point, which means gymnasts need to make difficult choices about other activities.
It is still possible to qualify for Elite gymnastics without enrolling in either of these programs, through a program like TOPS. HOPES is another program designed for those who have not quite reached Elite levels but are ready to advance beyond JO. For those who want to learn gymnastics as a fun workout or hobby, the Gymnastics For All (GFA) program is also endorsed by the USAG and has divisions for all ages and abilities.
In the long history of gymnastics as a sport, there have been many important milestones in its evolution. The establishment of JO in the 1990s, and the Xcel program in 2013, were both critical moments for gymnastics. Without a steady influx of young gymnasts, the sport could not survive, let alone thrive as it has been.
Whether you choose to participate in JO, Xcel, or another gymnastics program, the sport is an amazing way to gain strength and confidence. Gaining these unique skills is highly empowering for young girls, and even if they have no interest in advancing to Elite, these are still very valuable skills to have, and important lessons to learn.
Some important milestones in the history of gymnastics
From its earliest days, developed as a sport to hone the skills needed for hand-to-hand combat and horseback riding, to the modern sport today, gymnastics has long been one of the most popular and challenging sports out there.
1928: Women are allowed to compete artistic gymnastics at the 1928 Summer Olympics held in Amsterdam.
1963: United States Gymnastics Federation, now known as USA Gymnastics, is formed.
1976: Nadia Comaneci receives the first perfect score at the 1976 Olympics.
1984: Rhythmic gymnastics are added to the Olympics. Mary Lou Retton becomes the first American woman to win the Olympic all-around title.
1996: The Magnificent Seven, the 1996 US Olympic women's gymnastics team, wins the US's first gold medal in the women's team competition.
1997: FIG raises the age requirement for gymnasts to compete at senior-level gymnastics events from 15 to 16.
1999: Trampoline and Tumbling join USA Gymnastics.
2000: Trampoline makes its Olympic debut at the 2000 Olympics.
2002: United States Sports Acrobatics (USSA) merges with USA Gymnastics making Acro the fifth gymnastics discipline.
2006: FIG introduces a new scoring system for women's artistic gymnastics. The new scoring system has two separate scores added together — a difficulty score, and an execution score. This scoring system is used at the Elite level in the US and international competitions.
2012: The Fierce Five win the US's second ever gold medal in the women's team competition. Douglas becomes the first black athlete in Olympic history to win the Individual All Around title, and the first American to win both the Individual All Around and Team gold in the same Olympics.
2013: The gymnastics levels change from 6 compulsory levels and 4 optional levels, to 5 compulsory levels and 5 optional levels. Also, the Xcel program is introduced.
2016: The Final Five win the gold medal in the women's team competition, and Simone Biles wins the All Around and was the only American to qualify for all 4 event finals.