There are three main different divisions in NCAA gymnastics, however Division 1 is the one that has by far the greatest number of teams and therefore the greatest number of gymnasts in it. Knowing just how many teams there are can help you to calculate just how great or small your chances are of getting a scholarship on one of these teams.
There are 62 Division 1 schools that have gymnastics teams, of which 60 have women's gymnastics teams and 14 have men's gymnastics teams.
This means that for women over 1,000 out of the 1,500 college gymnasts are all in the Division 1 group. For the men, there are no Division 2 teams and only one Division 3 team, so practically all of the men collage gymnasts are in Division 1 as well. The average sizes of each is 18 gymnasts per team for the women and 21 gymnasts per team for the men.
About The NCAA And How It Affects The Divisions
The NCAA is the National Collegiate Athletic Association which governs all forms of inter-college sports of which gymnastics is only one of the many sports. There are over 1,200 colleges who are members of the NCAA and of these only 353 are in Division 1 with, as mentioned, only 62 of those schools having gymnastics teams.
It is the NCAA's job to oversee the competitions, establish rules, and to see that these rules are followed. Some of these rules are the ones that dictate how scholarships are given, how recruiting is done, and to make sure that each team has a fair shot at winning by putting them as much as possible on an even footing.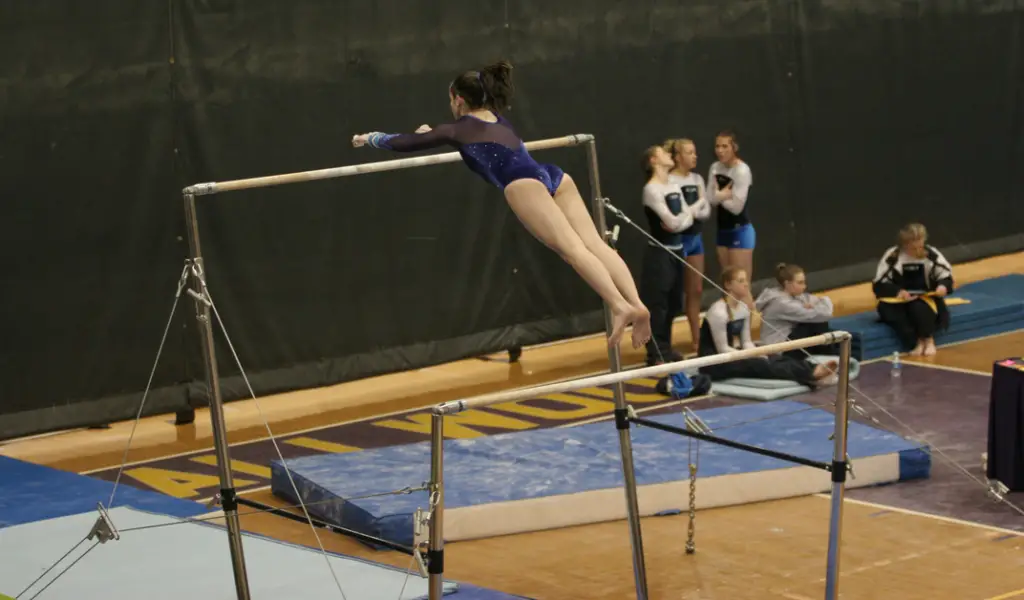 One of the things that they also are in charge of is breaking the schools that are members down into the three different divisions. They do this in part by the schools' level of competition and the resources that the athletic departments of the schools can afford to spend towards training and other things.
Division 1 schools are ones that offer the highest level of competition and which have the biggest budgets with Division 3 schools being the ones that have the lowest level of competition and the lowest budgets for their sports teams.
That being said, almost all of the college sports competitions that you see on the television, whether it is football or gymnastics, are competitions between Division 1 college teams. This is a very useful way of dividing different schools, since this way the schools which do not care as much for rigorous competing can have a more relaxed schedule.
This also gives students a chance to participate in college sports even if they do not want to spend as much of their time as Division 1 gymnasts do in training and competing. For this reason it is a good idea to know what some of the other differences between the different divisions are so that you can decide which college that you want to go to.
About Division 1
As mentioned the different divisions are quite a bit different in some ways, including the level of competitions and the funds. This translates into publicity, especially with Division 1, which in turn gives the colleges an opportunity to be exposed in order to attract more students and in particular talented student athletes who are looking for a college to go to.
More publicity can not only attract more students to make sure that the classes are full, but the schools can also make money from selling tickets and other things related to the games and sometimes can even get people to donate to support their sports teams, which means a large boost in their revenue.
Division 1 schools also have the largest amount of students who go to them and have the most available when it comes to scholarships that they can give to student athletes. Most of the sports conferences that you will sometimes hear about, including the SEC, Big 10, Pac 12, and ACC, all have to do with Division 1 schools.
 
Each division has its own recruiting, so you may be approached by different colleges of more than one of the divisions. However, as a general rule most Division 2 colleges know their own limitations and are well aware of the fact that the best and most promising gymnasts will be approached by the colleges in Division 1 which can afford to do more for them.
Therefore, most of the time they will only approach gymnasts who they believe to be not quite up to the standards of Division 1 unless the gymnast in question has specifically mentioned that they would be open to the idea of going to a Division 2 school to compete for them.
Keep in mind that almost all of the best gymnasts are going to be in Division 1 schools, so if your goal is to go to the Olympics as a gymnast or to test yourself against other gymnasts who are the best at what they do, then you should pick a Division 1 school.
However, if on the other hand you are wanting to relax a bit and you want time to do other things besides gymnastics while you are in college, then a Division 1 school may not be the best for you. The same goes for you if you know you are not good enough at gymnastics to really make it on an ultra-competitive gymnastics team.
As Division 1 schools, there are certain requirements that they have to meet in order to stay classified as a Division 1 school. Division 1 schools are required to have at least seven sports for men and seven for women, and these sports must be divided up so that both men and women have a sport for each playing season – fall, winter, and spring.
The same is true for Division 2 schools and even Division 3 schools, only they are only required to have five sports for each gender. But they are still required to include all of the sports seasons as well.
These sports can be any of the sports on the NCAA's list, including gymnastics. In particular, since football and basketball are the two sports that generate the most income, they are closely monitored and the most popular.
Each sport must have a certain number of games – or, in the case of gymnastics, a certain number of competitions – against other Division 1 teams. Once this minimum has been met they may go up against Division 2 and Division 3 teams, however at least half of their competitions still have to be against Division 1 teams.
Each school in Division 1 must also meet certain minimum requirements when it comes to the amount of financial aid that they provide for their athletes in the form of scholarships. In addition, there is a maximum amount of financial aid that they are not supposed to exceed. The only exception to this rule is the schools that are in the Ivy League Institution, since these are academic colleges and they do not offer athletic scholarships.
However, each school must offer roughly the same amount of scholarships and financial aid for women as it does for men. With basketball and football being so popular, there are a number of scholarships for these sports. So, to balance this out, this means that an equal amount of scholarships go to female based sports like gymnastics in order to balance the numbers out.
Other Inter-College Sports Associations
There are actually other sports associations for colleges besides the NCAA, though none of these are nearly as prominent. The National Association of Intercollegiate Athletics, or the NAIA for short, has schools that are for the most part on equal footing with the NCAA's Division 3 schools. However, unlike Division 3 these schools can offer scholarships to their athletes.
The other one that I will mention is the National Junior College Athletics Association, or NJCAA. This sports association is the one that is in charge of the sports for two-year colleges and also offers scholarships for its athletes.