In the market for an Air Track? In this article we will help educated you on the different styles of air tracks. We will discuss how to find the correct gymnastics air track length and offer our top 5 brands based on quality, durability and value.
Although we are a gymnastics site if you are looking to purchase an air track for your tumbler, dancer, cheerleader or parkour enthusiast this article will be helpful to you as well.
Air track length, durability, accessories and price are the most important factors when trying to get the best value at time of purchase. Here are the top 5 air tracks in order:
EZ GLAM
FBSPORT
SAILNOVO
AKSPORT
DAIRTRACK
In the chart below we've broken down the top 5 air tracks on the market and the important things you need to compare when making a buying decision.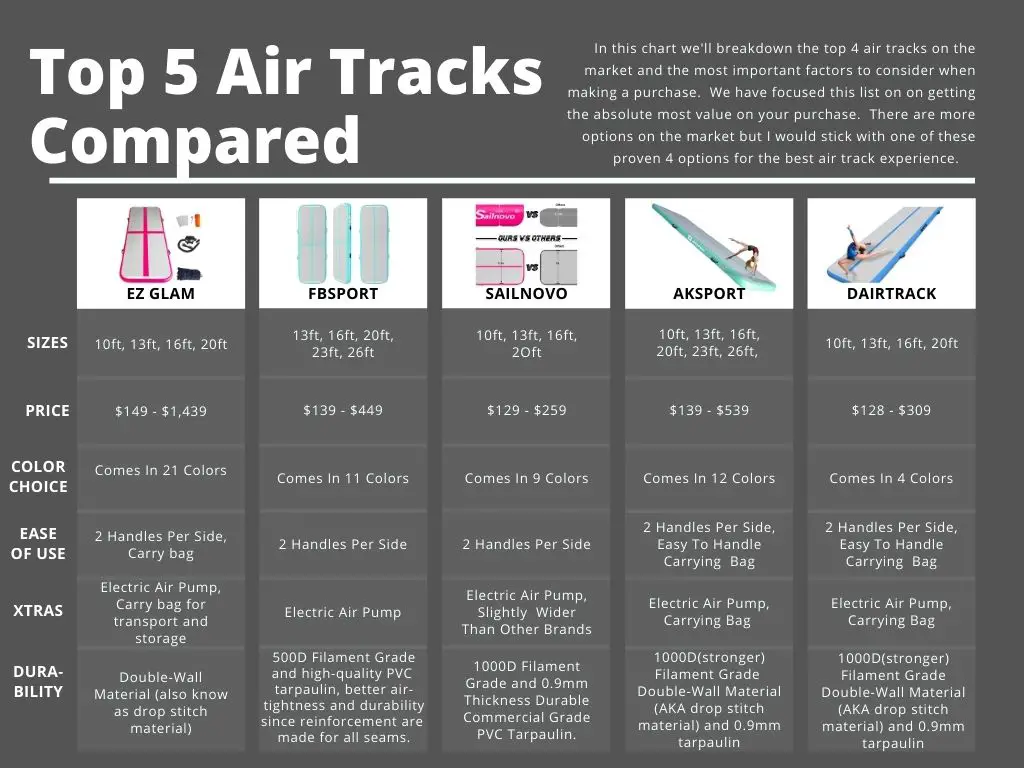 #1 – EZ GLAM
The EZ Glam air track offers a double wall material (also known as drop stitch material) this offers a great deal of durability. Air tracks need to be durable as you'll be constantly deflating them, dragging them to an area you'll be using it, and then storing them after use.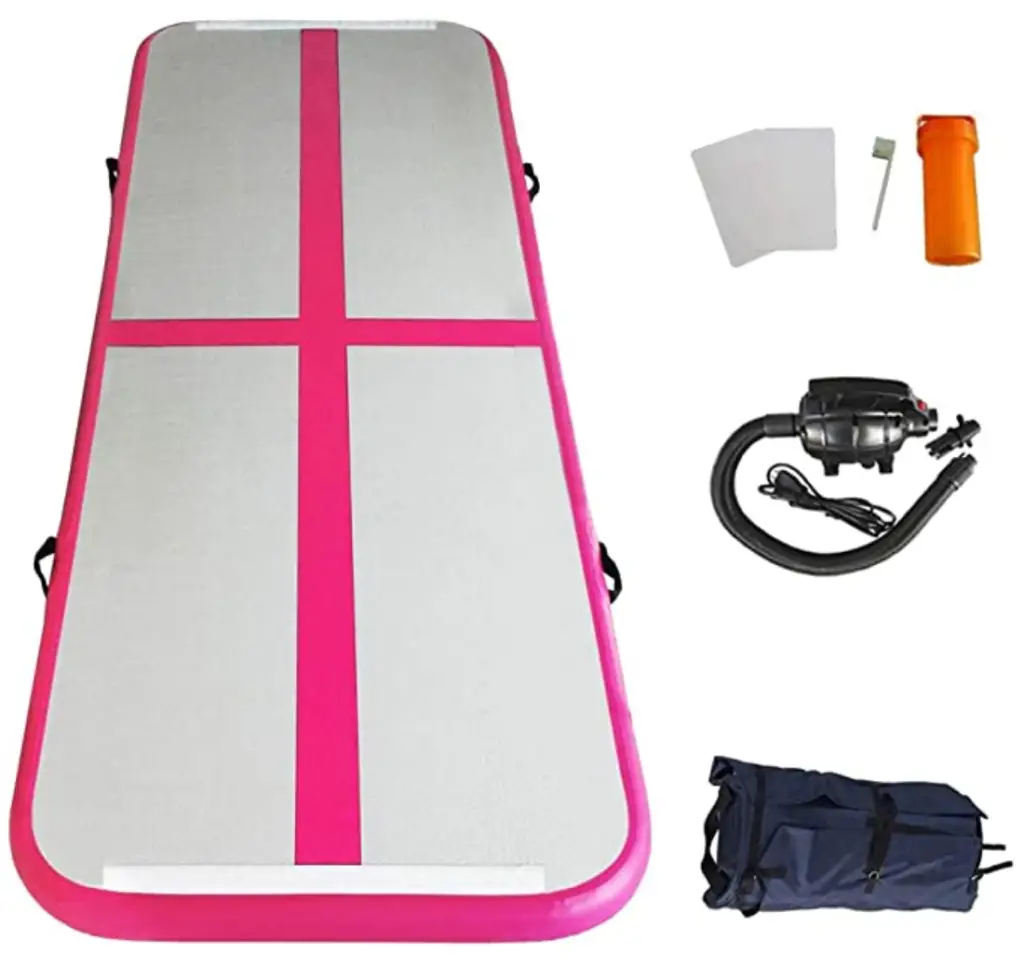 All of this movement creates wear and tear on the air track. The reviews of EZ Glam have routinely come back strong in durability department. I value durability and that is why we chose this brand when we bought our 16 foot air track shown below.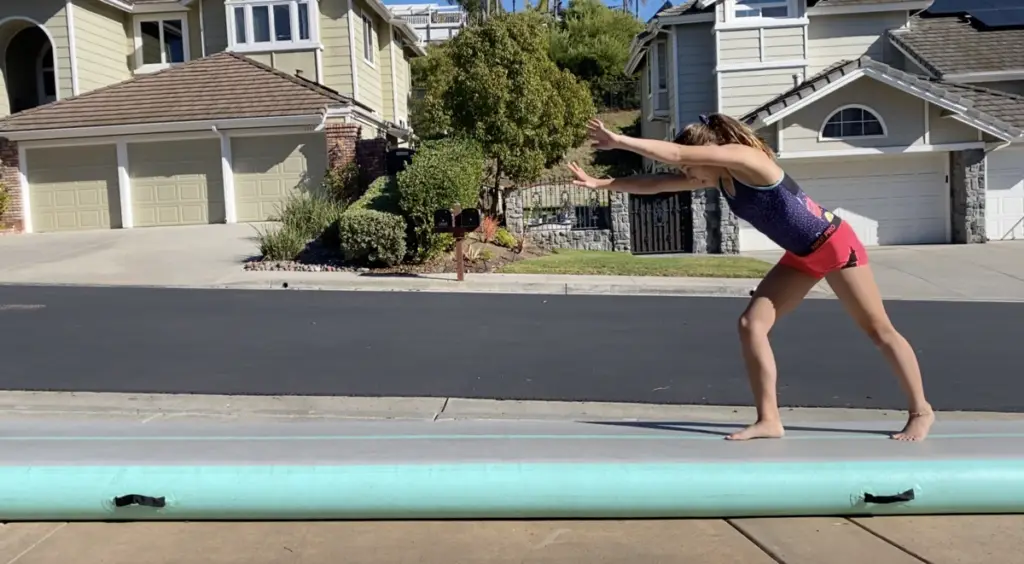 My daughters are constantly dragging this air track on and off our driveway. We've had it for over a year now and it still works great without and leaks or damage.
Here are a few other quotes from satisfied customers of the EZ GLAM air track.
This track is amazing! I purchased one a year ago for my daughter and she uses it nonstop. She loves it so much, I bought another one for my friend's daughter. My daughter is 11 years old and a level 5 gymnast and uses it for front and back tucks, round off back handsprings and all sorts of other skills. Her friends love to practice on hers because it actually stays inflated and works!

I looked at so many air tracks before purchasing this one. I was about to purchase another one that cost four times as much as the EZ Glam, and I am so glad I didn't. This is hands down the best you will find. Not the cheapest and not the most expensive, but definitely the best quality you will find.

TM via Amazon
My daughter is constantly performing gymnastics "routines" and practicing her flips in the house. I had never heard of this type of mat until she had me look it up for her Christmas list, and my wife and I took the chance. We've had normal vinyl/foam mats for years for her, but this was an eye-opener. This mat is built VERY well and is surprisingly springy and durable when inflated fully. This easily supports me, at approximately 200lbs. Needless to say my daughter loves this thing, and it has improved her confidence when performing some of the more difficult moves. Be aware that you will most likely be leaving it inflated, so get the appropriate size for your space. It CAN be deflated, rolled, and stowed in the handy bag, but it's not something you're likely to want to do daily. It shipped directly from China and we had it in about a week.

Greg W via Amazon
#2 – FBSPORT
FBSport's latest air track version has very durable handles and solid construction. The company specialized in air tracks and has a wide variety of lengths and designs.
If you are looking for a 20+ foot air track this might be the brand for you.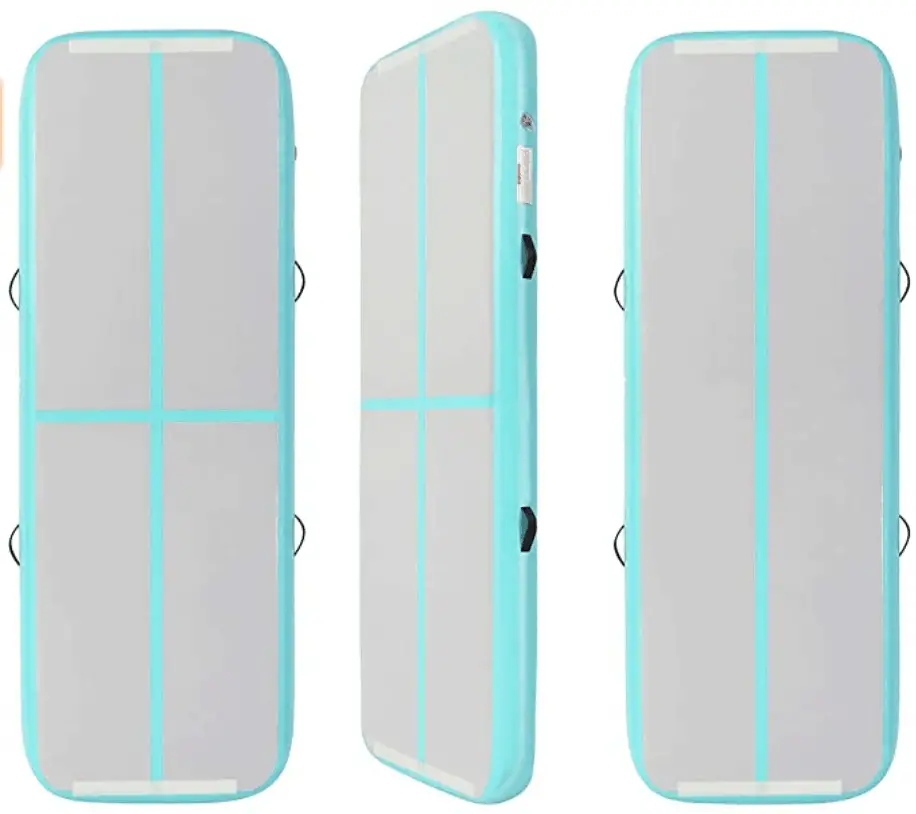 Here's what Kelly had to say about the FBSport's air track.
My daughter has been wanting an air track for over a year now. She finally saved up her money to buy one herself. Most air tracks are extremely expensive but not this one. Great price awesome product. Very durable and easy to use. Liked that it came with it's own pump and bag, even though I think the bag could be a little better, it works for the purpose. My daughter is so happy now and is saving her money up to get another one since it came with the velcro attachments. Highly recommend it, she has been using it non stop and easy for her to inflate, deflate and pack away all by herself.

Kelly via Amazon
Our girls are competitive cheerleaders and were so happy to get this 23ft tumble track mat for Christmas! It has the perfect firmness & bounce for their high level tumbling skills. Quick set up & quick take down makes it perfect for our home! Excellent value that we can see having hours and hours of use. Delivered on time as indicated withexpress shipping- arrived in lots of time for Christmas. Would definitely recommend this company. Also has a 1 year money back/replacement warranty which is reassuring as well!

Daneille via Amazon
#3 – SAILNOVO
The biggest selling point for the Sailnovo Air track is the extra 4 inches you get in width. Simple stationary moves are easy to perform on a thinner track but when you start doing advanced tumbling passes you will want more width.
The extra 4 inches offers more stability and safety for the users. Other brands are starting to offer air tracks with more width but Sailnovo is the first brand to differentiate themselves with this added element.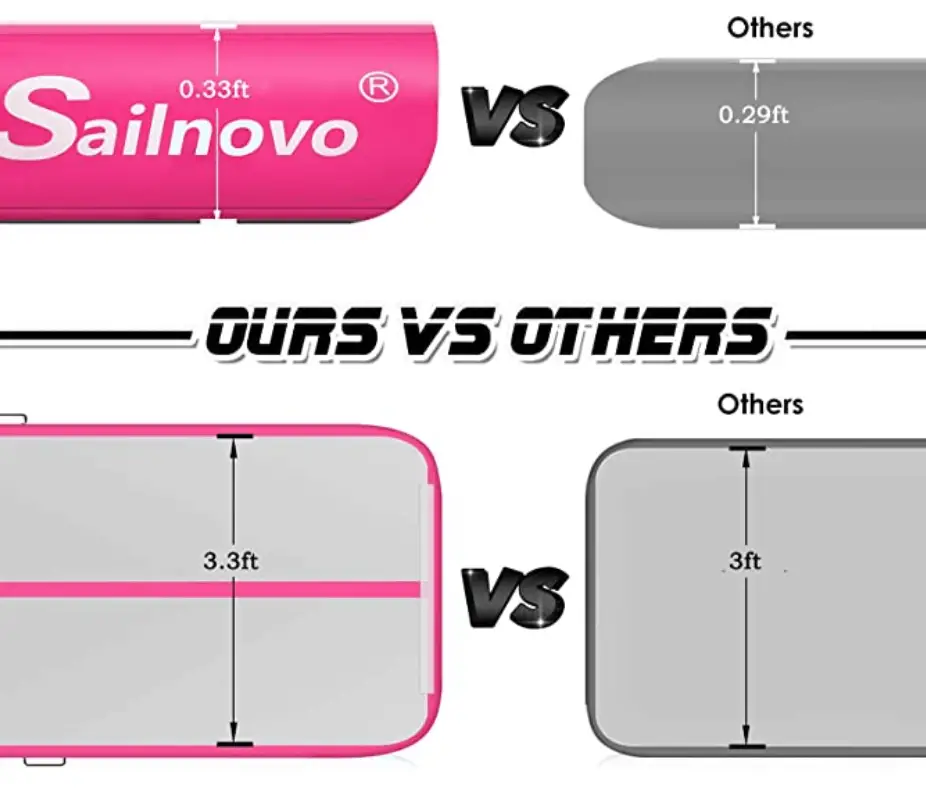 Here are few quotes from happy customers of the Sailnovo air track:
Super impressed with this. Our kids can blow it up and deflate it themselves. We received it yesterday and all the kids plus my husband used it for at least 5 hours straight last night. We have 3 gymnasts, so it's getting its use. And it's perfect for practicing their skills!!

Erica L via Amazon
My nephew loves to play and exercise, and this mat gives him the ability to do it indoors safer. The mat itself is easy to prepare and it gives that much needed cushion.

When you're finish with it you can store on its side or deflate. Either way it doesn't take up much room.

Great way to stay active and give the young ones some protection from the ground or floor.

Cyrus W via Amazon
#4 – AKSPORT
AKSport's air track comes in a wide range of sizes at an affordable price. The durability is still good with extra precautions taken on all seams.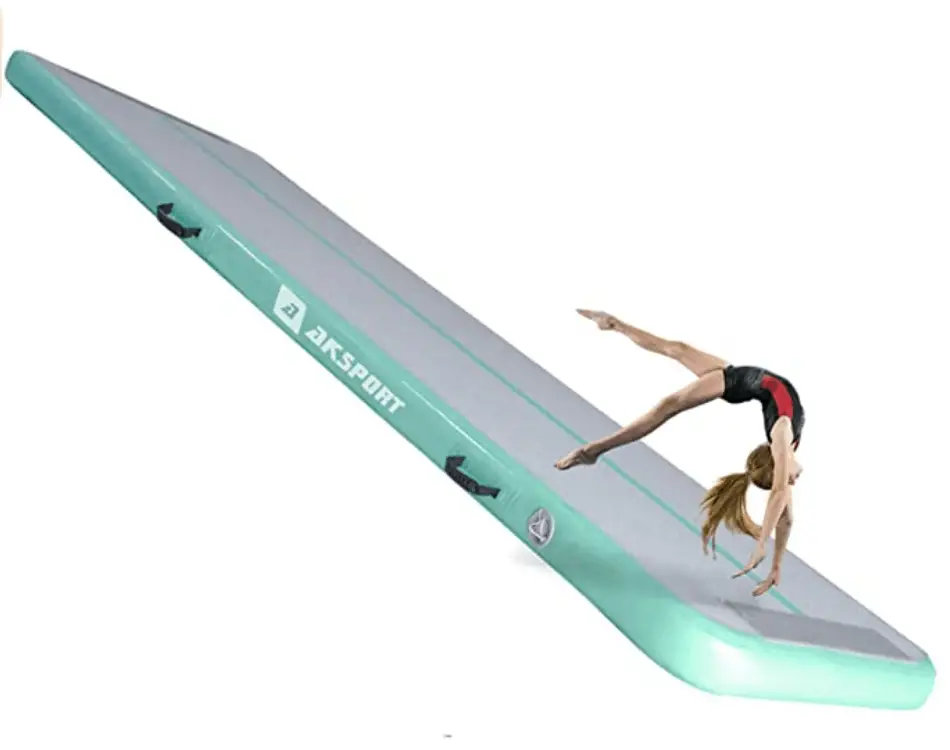 This air track has received mostly strong reviews with the only exception being an issue with the pumping to sealing transition.
Here's what what a 4 start review customer had to say.
We opted for the 20 ft floor 4 inches thick. This is exactly what my girls wanted to continue practicing their floor and tumbling routines during Covid-19. The packaging was very good, no damage was noted. We left the exterior box outside, using caution not to contaminate the interior box. The floor itself was wrapped in plastic. The floor unrolled very easily and the pump itself worked without any issues. The only reason for a 4-star review is because I had a minor issue with the self-closig port when I blew up the floor. When you remove the nozzle for the pump from the port, it should seal. It took me a couple of tries until I was able to manipulate the seal and spring to ensure a seal when I removed the nozzle. This may be a manufacturing issue with a weak spring. I read some reviews that indicated an issue with their floor losing air after a day or two. We are not experiencing that issue at all and they have been using the floor non-stop since I blew it up. Get the floor- they will love it!

Labrador171 via Amazon
I love this but it is not as big as expected l.I used it for tumbling. Ok so something very funny happens with the pump ok so I took it out and my long hair got stuck in and sucked up and pulling my hair. It wasn't all of my hair thought thankfully but it got a few big knots that I will need to get out. So lesson learned never let your hair get stuck in a air pump because it is sorta painful and takes lots of time to fix untangling it. Everyone please do not go try it it's not worth it.but then again this mat is so good if you love gymnastics/tumbling this proudut is great for you . Again nothing wrong with the mat or air pump so ya tie your hair up and ya. Actually I just remeberd my hair was up it was just in a ponytail tho so put it in something like braids or a bun… ya so if you like this review gives o buy this right now!!!!! Buy the way this is a kid who write this so I am pretty proud because it's kinda funny in some ways!! Oh my god I should be a sailsman when I grow up!!??

Darren K via Amazon
#5 – DAIRTRACK
The Dairtrack just made our top five list based on it's value in comparison to the others. It only offers 4 colors of air tracks but what you lose in options you'll gain in price.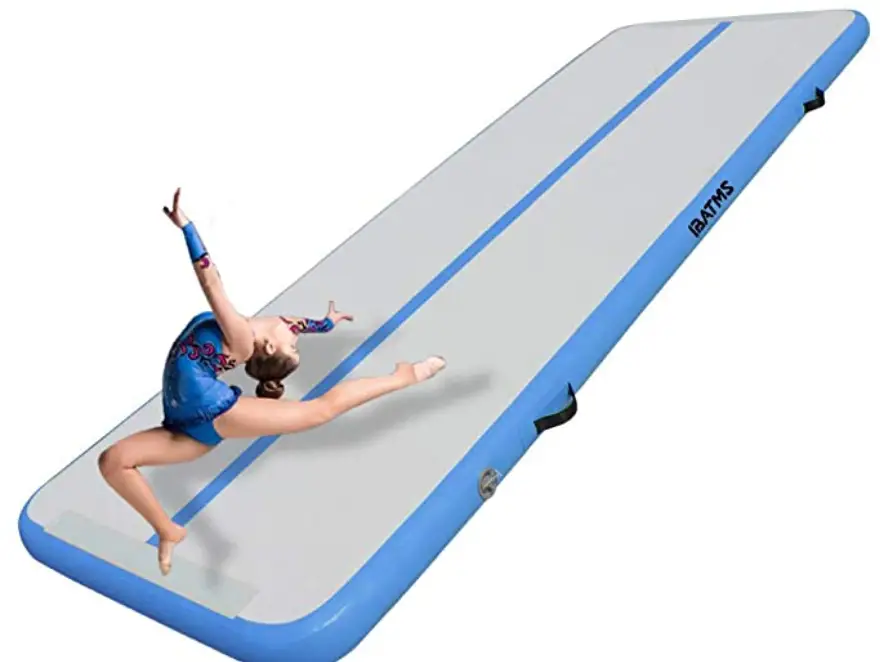 The Dairtrack is the lowest 20 foot priced air track at the moment. The 20 foot version comes in at a low $309.
Here's what others who have purchases this air track had to say:
I am a college student who has no background in gymnastics or dance, but I wanted to learn how to tumble and this is the perfect air track to use. It is only 10ft long, but since I'm not focusing on combinations of skills, it is perfect.

The one downside was there was no instructions of how to use the air compressor. It just took some trial and error to first get the mat blown up.

Helen H via Amazon
If you are thinking about getting one, DO IT! I was skeptical but this is my 15 year olds favorite thing now. She loves to do all the gymnastics tricks and it feels just like a gymnastics mat. I'd definitely buy again!

Michelle P via Amazon
What length of an air track should I purchase? Where can I use my air track? How should I store my air track? Is the air track dangerous? We will cover these topics and more in this article.
What length of an air track should I purchase?
This is one of the most important factors when purchasing an air track. You need to first take an inventory of where you will be using the air track the most. If you have a huge yard with lots of room to spare you can go for a longer air track.
Most brands offer at least a 20 foot air track which allows you room for at least one tumbling move or possibly two depending on your size.
Other brands offer even longer air tracks but they are normally out of stock on the big online stores like amazon. If you want to purchase one of these longer tracks you will likely need to place an order with the manufacturer directly.
If you have less area for your air track you'll want to get a smaller version. You'll still be able to do many gymnastics moves with the smaller version but just not as many tumbling combinations. As an example with a shorter air track you might only be able to complete a back handspring. But with the longer versions you could do a back handspring followed up with a back tuck tumbling pass.
You can use the following chart to measure out how long of an air track you should purchase.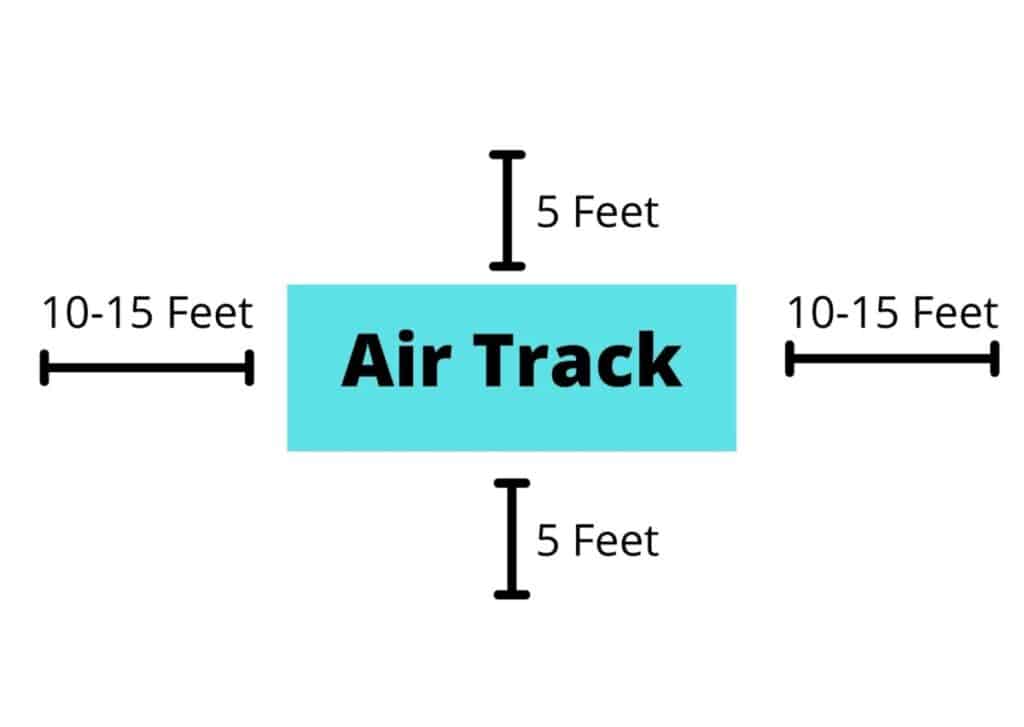 What Types of Moves Can I Do ON My Air Track
The moves you can perform on an air track are endless. That is why the air tracks are becoming so popular for not only gymnasts but also for other sports like cheerleading, tumbling, karate, dance, parkour and more!
Here is a short list of some of the gymnastics moves you can do on an air track:
Forward Roll
Cartwheel
Roundoff
Back Handspring
Back Handspring Step Out (Shown Below)
Standing Back Tuck
Front Walkover
Aerial
Front Tuck
Front Aerial
What Thickness Should I Get
The standard thickness for most air tracks is 4 inches. You can also get air tracks that are 8 inches and 12 inches. The thicker the air track the bigger the bounce you'll get.
Most gymnasts will opt for the 4 inch thickness as it most resembles a gymnastic floor that they are used to practicing on.
If you want are using the mat for other sports or just for fun you can go for more spring with an 8 inch thickness.
The 12 inch thickness is normally reserved for Power tumblers. If you plan on using the air track in an at home setting and you are not a super advanced gymnast or tumbler I would not go for the 8 or 12 inch thickness.
The high bounce creates more risks when performing moves on the air track. If you make a mistake or fall off sideways you could hit nearby objects or land on hard ground and get injured.
Where Can I Use My Air Track
Air tracks can be used on concrete, carpet, grass, sand, water and snow. Be sure to make sure there is adequate space around you before performing any moves on the air track.
It's also recommended that you put regular gymnastics mats around the air track if you are using it on a hard surface like concrete or cement.
Also tip is to put a tarp or blanket underneath the air track before using it. This will give you an extra layer of protection from pointy rocks and sticks.
If you do plan on using the air track on water and snow be sure to use extra precaution on the air track being wet and slippery. If you are jumping off the air track be sure you have deep enough water underneath you.
How should I store my air track
When air tracks first came out the didn't come with bags to store them in. You would simply just get the air track in a box with a foot pump. As the competition grew manufacturers started to sweeten the deal and add an electric pump and a carry bag with the air track.
The carry bag is great for 2 main reasons.
It allows you to more easily move the air track to a different location. You can strap the air track bag over your shoulders and take your equipment with you to a nearby park with lots of room.
The bag will help protect the track while being stored. Many punctures on air tracks come in the transportation phase. That time when you're moving it out of storage to a good location and then again on when you move it back to its storage location.
Is An Air Track Dangerous
Air tracks can be dangerous if you do not take certain precautions. Here is a link to an article where I go over 7 tips on how to be safe on your air track. I encourage you to read this article below thoroughly to protect yourself from injury.
Does Your Air Track Have A Warranty
Before you make that purchase verify that the brand you are purchasing has a warranty. Air tracks are an item that take a beating. Your kids will be dragging it all around your driveway, garage and yard. The chances of some damage happening are high.
To protect your purchase be sure to buy from a company that offers a warranty for your purchase. Most companies will offer this option. You can also research the site you purchase the track from and see if they have any consumer protections available.
How Long Will My Air Track Last
Most air tracks will work great for at least two years. This will vary if you use your air track more often. They are a fairly durable item though and you should get a few years of enjoyment with out any issues.
Be sure to store the air track out of the elements like excessive cold, heat, rain or snow. This will help with your air tracks longevity.
Air Track Accessories
As I mentioned above air tracks used to come by themselves with no accessories. Times have changed and with the high level of competition of air tracks available top brands have started to add more accessories with your purchase. Here are the main 4 accessories that will come with an air track.
Electric Air Track Pump – Originally air tracks came with a foot pump which would take a long time to inflate the air track. Electric air pumps are a relatively cheap item these days and make pumping up an air track easy. Most pumps will inflate a 13 foot air track in just a few minutes.
Carrying Bag – Carrying bags are a great accessory that keeps your air track safe. It protects your air track when you are storing it in your garage, basement or home. And it also makes transporting the air track easier with a bag with straps. This also protects the track from damage that could occur while dragging it to the set up location.
Patch Kit – I've never had much success with patch kits but most air track companies are including them with your purchase. If this happens I would attempt to return the air track if that option is still available. Once you puncture the air track you might have issues with it long term. Patch installation is not always successful and it will depend on the size of the puncture.
Valve Wrench – Valve wrenches are also included with many air track purchases. If your valves (where air flows in and out) gets loose you will lose pressure quickly and have to constantly re-inflate the air track. Avoid this problem by keeping the air track inflated with teh valve wrench.
How Much PSI When I Inflate My Air Track?
Use an air pressure gauge if possible and inflate your air track with 3-5 psi (pounds per square inch).
Check your air track PSI before each use and adjust it during your workout if you feel as though it's starting to get deflated.
How Much Does The Air Track Way
This will depend length of air track you purchase but most air tracks weight between 45 and 60 pounds. My two young gymnasts are able to move our 16 foot air track in and around the house with ease.
Conclusion
I hope you got some value from this buyers guide on gymnastic air tracks. There are one of the coolest gifts you can give your young gymnast or tumbler. Take time to review the information above so you can make an educated purchase. Durability & overall value are the most important factors when evaluating the brands above.